How Does StartupBlink Rank your Ecosystem?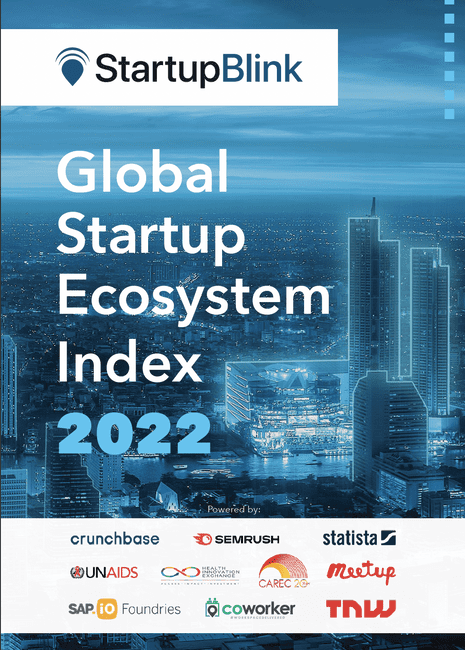 StartupBlink's Global Startup Ecosystem Index (GSEI) represents startup ecosystem rankings of the top 100 countries and 1000 cities globally. The Index has been published first in 2017 and is based on an algorithm considering a wide range of data and parameters. This includes information gathered from a variety of global partners as well as crowdsourced data from the StartupBlink Global Startup Ecosystem Map. The map, which has been updated regularly since 2013, provides a detailed snapshot of the various stakeholders in each startup ecosystem. Additionally, our platform provides interactive dashboards that give users a closer look at the startup ecosystems of all ranked cities and countries.
Every year, StartupBlink's GSEI is used by hundreds of thousands of startup founders, startup ecosystem developers, corporations, and other stakeholders to support critical decisions on policy-making, strategy, relocation, and investment. Additionally, StartupBlink leverages the GSEI and its vast underlying data sets in various analyses and consulting projects focused on developing startup ecosystems for governments and international organizations. This includes providing guidance and recommendations in policy, strategy, and investment areas.
Understanding the Data Sources for Startup Ecosystem Rankings
StartupBlink Index is built based on multiple data points, with the main ones being: 
StartupBlink's Global Map which is a crowdsourced platform with hundreds of thousands of startup-related entities.
Global Data Partners, such as Crunchbase, SEMrush, Statista, and Meetup.
Ecosystem-specific data coming from approximately 100 Ecosystem Partners, mainly government agencies.
The Guiding Principles for Our Startup Ecosystem Rankings
In order to achieve the most accurate rankings, our algorithm is based on objective and measurable data that can be compared across different regions, countries, and cities. Rather than relying on subjective methods such as surveys or interviews, we have chosen to use data that has been directly gathered from the StartupBlink map or obtained through a partnership with a trustworthy global data provider.
We aim to minimize assumptions and only focus on measuring results. We do not rely on theoretical models to assume the causes of success for startup ecosystems, as we have learned through our consulting experience that every ecosystem is unique and that what works in one may not work in another. Hence, StartupBlink's GSEI does not measure innovation or implementation of advanced policies related to city development.
A trade-off for most annual rankings is maintaining the consistency of the algorithm and innovating on new elements to improve or adapt the algorithm to changing business environments. We prioritize consistently updating our algorithm so that our stakeholders can depend on our results for informed decision-making. Each year, our algorithm becomes more accurate. It is important to note that changes in an ecosystem's ranking are determined by the ecosystem's performance in the past year and by advancements in our algorithm.
It is important to keep in mind that StartupBlink's GSEI is comparative. A decrease in ranking doesn't necessarily mean that the ecosystem has performed worse than the previous year; it could simply mean that other ecosystems have grown faster and overtaken it in the rankings.
If you would like a more comprehensive overview of the algorithm, we invite you to get a StartupBlink PRO account. This account provides raw data for all ecosystems, specialized filters on the map, options to export data, and access to raw and processed components of our algorithm.
Distinction Between Countries and Cities Rankings
Each year, we present two sets of rankings: One for countries and one for specific individual ecosystems nestled within the cities. We present only the top 100 countries and the top 1000 cities. Yet, our database includes additional locations. However, we observed that accuracy decreases the lower an ecosystem is ranked, generally due to the limited number of relevant entities in low-ranked locations. 
In some cases, it is possible to observe that the momentum of a specific country and the ranking of its cities might be contrasting due to several reasons, such as:
Our country rankings consider population size, but city rankings do not, in order to adjust the expectations between countries with smaller and larger populations.
Within a specific country, some cities may see an increase in rankings while others decline. This is particularly relevant in countries with multiple cities in the top 1000, like the United States, which has multiple cities that fluctuate in their rankings.
Why does StartupBlink Cluster Cities for Startup Ecosystem Rankings?
StartupBlink clusters cities in cases where they are part of a larger urban area. San Francisco Bay Area is a well-known example, which encompasses multiple cities such as San Jose and Palo Alto. A similar principle is applied to other locations worldwide when they are considered a part of the same ecosystem.
By grouping urban areas into one ecosystem and not considering the population size in our algorithm, it may seem like we are favoring bigger cities. But it's not our algorithm that provides the advantage, it's reality. Due to the larger number of entrepreneurs and economic activity, bigger cities are more likely to perform better than smaller cities. Still, if you use the population filter in the interactive map ranking tables, there are some instances of small cities punching above their weight, such as Santa Barbara, California (USA), Kingston (Canada), Cambridge (the United Kingdom), and Boulder, Colorado, (USA).
The size of the domestic market also plays a key role in ranking advantages for startup ecosystems. Ecosystems in countries with large populations and markets have the potential to grow startups much larger without competing on a global scale. Examples of this are ecosystems in countries like China, India, Indonesia, Brazil, and Russia.
Total Score Ingredients of Startup Ecosystem Rankings
The ranking of each ecosystem is determined by a total score, which is computed by summing up three subscores for Quantity, Quality, and Business environment.
The total score is intended for comparison purposes, it's not only used as a method for sorting and ranking ecosystems but also allows us to comparatively understand the differences between ecosystems.
Quantity Score
A strong startup ecosystem is made up of not just startups themselves but also organizations that offer resources, networking opportunities, and access to funding. The Quantity score measures the level of activity within an ecosystem by assessing the participation and involvement of its key players and stakeholders. The Quantity score is calculated based on the following elements:
Number of Startups
Number of Coworking Spaces
Number of Accelerators
Number of Startup related Meetups
Some of this data arrives from our Global Data Partners, such as CrunchBase, MeetUp, and Coworker.
Quality Score
The Quality Score presents the qualitative results achieved by an ecosystem. We have utilized various integrations with partners, such as Semrush and Crunchbase, and have analyzed hundreds of thousands of data points in order to assess the Quality of each startup ecosystem. The elements of the Quality Score are:
Traction of over 100,000 entities in all ecosystems (including traffic, domain authority, and customer base)
Presence of strategic branches and R&D centers of International Technology Corporations
Branches of multinational companies (e.g., WeWork spaces, Microsoft R&D offices)
Total private sector investment in thousands of startup ecosystems
Number of employees per startup
Number and size of global startup events and conferences
Presence of Unicorns, Exits, and Pantheon companies
Presence of Global Startup Influencers
Global startup events (e.g WebSummit)
The number of startups backed by Y Combinator
Business Score
The final component affecting the GSEI rankings is the Business Score. It primarily concentrates on factors at the country level, as national infrastructure, policies, and legislation typically impact all cities within a given country.
The Business score is calculated with a weighted average that considers a wide range of elements within each country, as outlined in the list below:
Diversity Index
Internet Speed
Internet Freedom
R&D Investment
Availability of various technological services (payment portals, ride-sharing apps, cryptocurrency)
Number of patents per capita
Level of English proficiency
Top Universities per location
Internet Users
Regulatory Quality
Innovation Index
Ease of doing business index
Additionally, the Business score also factors in a minimum threshold of activity in a city, which helps to explain some of the score variations between cities within the same country.
In line with our policy of not making assumptions about the factors that contribute to the success of an ecosystem, we do our best to avoid indicators that may have an uncertain impact and only consider those that are negative or positive. For example, a lack of access to reliable and fast internet, or strict limitations on internet usage, can pose a significant obstacle to the growth of an ecosystem. On the other hand, we do not consider factors like the cost of living, as this can have both beneficial and detrimental effects on an ecosystem.
Are you interested in learning what impacts your ecosystem's ranking on StartupBlink's GSEI?
StartupBlink's health check is a one-of-a-kind report that compares the strengths and weaknesses of a startup ecosystem with other similar ecosystems. It allows ecosystem developers to see how they perform on each aspect of the algorithm. This report can be used to address any underperforming parameters and to build on strengths identified as overperforming. It's also an opportunity to measure performance against comparable ecosystems.
Would you like a Health Check Report for your ecosystem?